In Summary
: Nephi is commanded of the Lord to slay Laban and retrieve the brass plates. Laban's servant CHOOSES to join Lehi's family in the wilderness.
Synoptic Breakdown:
1-3-

Nephi's motivational speech to his brethren.

Nephi

showed his courage, dependability, and faithfulness, "Let us go up again unto Jerusalem, and let us be afaithful in keeping the commandments of the Lord; for behold he is mightier than all the earth, then why not bmightier than Laban and his fifty, yea, or even than his tens of thousands?"(v 1). He reminds them not only of Moses (stories from the scriptures) and applies it to their own situation, but he also reminds them that they'd witnessed an angel (their own testimony) and asks how they can doubt that the Lord would deliver them.
4-6-

Doubt and being led by the spirit.

Laman and Lemuels' hearts are still unpricked and they continued to murmur, but they followed anyway and hid themselves. Nephi crept into the house of Laban, having no plan but being led moment-by-moment by the spirit.
7-18-

Nephi's inner thoughts wrestling with the spirit and the death of Laban.

Nephi encounters the drunken, fallen Laban and took his sword. He was constrained by the spirit to kill Laban with his own sword, struggled with that thought, the spirit reminded him that the Lord had delivered Laban into Nephi's hands; a third time the spirit told him to slay Laban because, "the Lord aslayeth the bwicked to bring forth his righteous purposes. It is cbetter that one man should perish than that a nation should dwindle and perish in dunbelief" (v. 13). Nephi remembers the Lord told him that if his seed would keep the commandments they would prosper in the land of promise, but they could not know the law unless they had the brass plates where the law was written. Nephi resolves that for this purpose he must slay Laban and secure the plates, so he smote off his head with his own sword.
19-27-

Securing the plates by strategy.

Nephi dressed as Laban, went to the treasury and commanded the servant to obtain the plates so he could take them to his elder brethern. The servant believes Nephi to be Laban and obeys, following Nephi out of Laban's house.
28-38-

A bit of comedy, success, and a traveling partner joins the journey.

Nephi's brothers were scared when they saw Nephi, and fled. Nephi called after them, the servant gets scared and begins to flee, but Nephi seized him and held him. Nephi explained to the servant Zoram that if he would listen, he would be spared; even that he would be free if he joined his family with them in the wilderness. Zoram took an oath and had courage to join them so the Jews would not know of their flight. Nephi and his brothers took the plates of brass and Zoram and departed to find the tent of their father.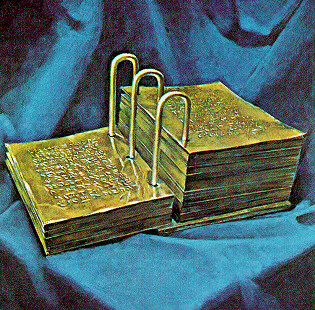 My Thoughts:
This is a significant chapter because it further elaborates on the personality and faith of Nephi and it also illustrates the extreme importance of obtaining the brass plates before continuing their sojourn in the wilderness. The death of Laban is significant not only for Nephi who slew him, but also for Jerusalem as a city. Nephi's firm reliance on the spirit shows his moral character and complete dependence on the Lord in all that he does. The strategy he used in girding himself in Laban's clothing and with his sword was an effective method of securing his safety and luring Zoram safely to his brethren hidden outside. Zoram's decision to join Lehi and his family allowed the necessary introduction of not only more faithful followers, but women for Lehi's sons to marry and have children with. Another testament to the fact that God knows our every needs and meets them on his timetable.
Laban's death is no doubt a graphic event (and we're only 4 chapters into the Book of Mormon), but it is also a controversial topic for many. As such a faithful, firm follower of Jesus Christ and as a future leader of his people many ask how could he commit murder? The answer is found in verse 13, where the Lord explains his reasoning ("it is better that one man perish than that a nation should dwindle and perish in unbelief"), but Nephi adds his own reasoning:
1- The Lords promised to prosper his seed in the wilderness if they kept the commandments.
2- Keeping the commandments from the Law of Moses would be difficult unless they had the law.
3- The law was engraven on the plates of brass
4- This is why Laban had been delivered into Nephi's hands (and the spirited directed him 3 times to slay him).
Laban did not enter the house of Laban looking to murder him. He had no plan. He was not angry and divisive, but humbled before the Lord, willing to submit to the promptings of the spirit and that's just what he did when he slew Laban.
Application:
How driven are you and I in our quest for the spiritual enlightenment? Are we constantly seeking the will of the Lord concerning our actions and choices in our daily lives? Do we truly understand the power in reading and living scriptural truths? Do we seek the Lord's plan for us, no matter the cost?
There is a great talk by Elder L. Tom Perry, titled
"Give Heed Unto the Word of the Lord"
that discusses these very questions. One great quote warns, "If we are not looking to the scriptures as a source of great spiritual power, we are missing wonderful opportunity for spiritual nourishment and strength. In this modern day and age, there is a greater need for spiritual power than perhaps at any time before in our history" (Perry, 2000, p.1). Furthermore, "When we know the scriptures, when we understand them, we get a feeling for what the Lord has revealed to His children through the ages of time. We learn His will for us. And we are strengthened spiritually" (Perry, 2000, p.1). For that very reason I am glad to be a part of this blog and to be engaged in understanding the scriptures better.